Nearly four out of every 10 people will develop cancer at some point in their lives. This year alone, an estimated 16,130 new cancer cases will be diagnosed in Arkansas (American Cancer Society). Our Cancer Prevention Education Program aims to lessen the overall burden of cancer in our region.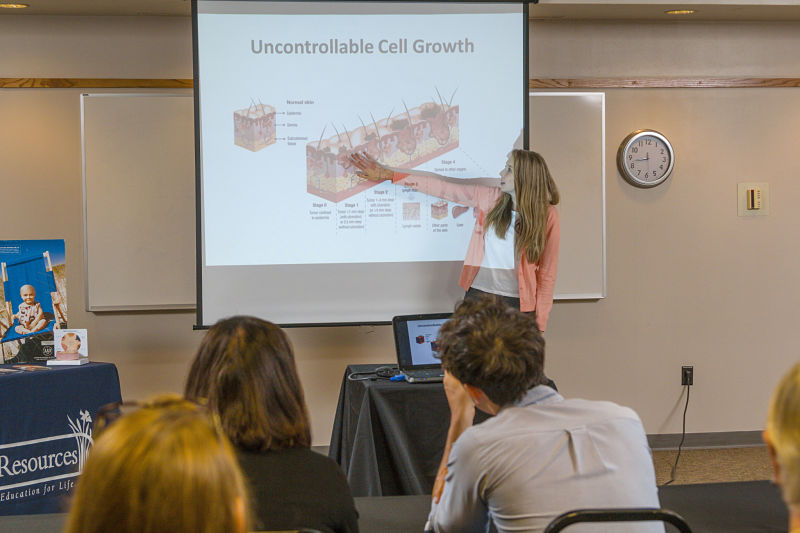 Our staff, including a Certified Health Education Specialist (CHES), provides free cancer prevention education to employers, schools, churches, businesses and civic organizations in Northwest Arkansas. Prevention education includes sun safety and skin cancer, the dangers of tobacco use and evolving tobacco trends, and informational seminars on the basics of cancer and healthy lifestyle behaviors to lower cancer risk. The program is also provided to increase awareness of high-risk behaviors, early warning signs and symptoms of cancer, and cancer prevention methods.
"Prevention education leads to lifelong positive health outcomes and continues to be the greatest priority in public health," said Abbie Luzius, MS, CHES, CTTS, Hope Cancer Resources Manager of Prevention & Wellness.
So far this year, our Cancer Education & Prevention Team has conducted 71 presentations to more than 3,300 people. We are expecting to surpass those numbers in 2019.
For more information or to set up a cancer prevention education presentation, please contact Abbie at 479-361-5847.